This event is in collaboration with the HUB Entrepreneurship and Innovation
of the University of Lausanne, EPFL Innovation Park and Innosuisse
Did you know that as little as 4 percent of all healthcare research is targeted at women's health, despite the fact that women represent 50% of the global population?
Women's health is a field ripe for innovation. Innovators in health research and technology are focused on addressing women-specific health issues like period health, mental health, fertility, pregnancy, menopause working on treatments to foster effective prevention that will contribute to the wellness of women in the 21 century.
Join an interactive discussion with FemTech entrepreneurs and learn about the innovative solutions supporting women's health. You'll also learn about newly created program Tech4Eva, Switzerland's first FemTech accelerator program to support researchers and innovators in the FemTech space.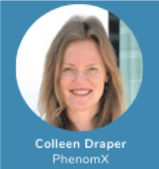 Colleen Draper, Founder of PhenomX - Sector of Wellness
PhenomX is a precision nutrition for women company focused on using the latest non-invasive technologies to measure hormonal health imbalances and aging and provide therapeutic nutrition solutions.
Mathieu Horras, Co-Founder of ASPIVIX - Sector of Fertility & Pergnancy
At ASPIVIX, we innovate women's care as we believe it's about hefty time for gentler and more modern gynaecology. We create a new generation of medical instruments, eliminating pain and bleeding, for millions of women every year.
Are you interested to know more about the field of women's health ? Do you want to discover new innovations and technologies emerging in this field ? Do you want to join the discussion with our 2 entrepreneurs ? Register to this online event. You will receive the link to join the online conference following your registration below.